Curatorial Statement "The Line of Korea"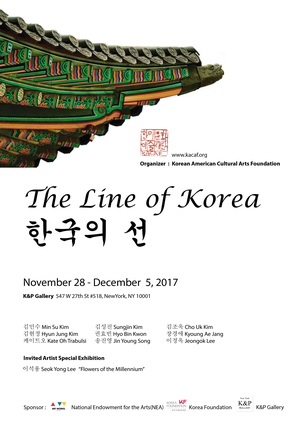 The mission of the Korean American Cultural Arts Foundation is to expose Korean cultural art and heritage to citizens of the United States and to sustain the creative development of artists. In 2016, KACAF showcased its 11th art exhibition, "Hanguel, about its beauty", in Chelsea, New York, often referred to as the Mecca of Modern Art. This year, we proposed the subject "The Line of Korea" for the New York exhibition and corresponding competition; entries have been received in all artistic fields, including painting, sculpture, installation, media, design, crafts, and calligraphy.
The line of Korea is commonly known as the Line of Korean scenery, the flying but smooth eaves line of a traditional Korean house and the natural line of Hanbok. All of these lines, of course, have a gentle and common appearance that is neither visually over nor under, but have a similar resemblance to a Korean life.
In this international competition, we selected works which represent new aspects of the Korean line according to current times and we congratulate the selected artists. I am especially pleased to invite Seok Yong Lee, a Korean cultural heritage artist of Korean traditional paper flowers. Starting from the line called the basic element of visual arts, we hope that this exhibition will be a gateway to experience the line of Korea and even the life of Koreans, which are revealed in each work. Furthermore, we look forward to an opportunity to taste and share this authentic beauty with the world and to form an even larger consensus.